Project Outcomes
The project used a service-oriented architecture to make interconnected ICT systems more manageable, allowing dynamic adaptation to manage changing situations, and counter the risk amplification effect of interconnectedness. To control the resulting ICT components, the project developed:
tools and ontology for modelling of critical infrastructure including ICT components, to capture their requirements, behaviour and compositional nature;
system dependability metrics and agreements, and dynamic governance mechanisms, including dynamic trust management;
system composition mechanisms allowing dynamic discovery and interconnection of component services; and
decision support tools that exploit underlying semantic models to provide situational awareness of system status and threats.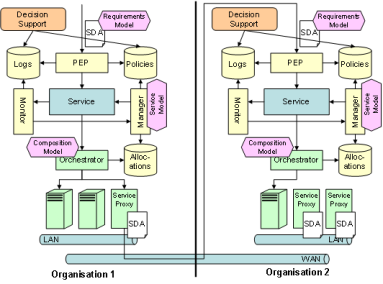 Semantic system models enable a unified approach across all these developments. Semantic requirements models lead to reliability statements in service dependability agreements, which can be used by adaptive composition mechanisms, allowing management of larger composed systems to meet their requirements.
These innovations have been validated in an information-intensive critical transport infrastructure that requires richly interconnected ICT: air traffic flow control and airport airside process optimisation through collaborative decision making in airports. Requirements have also been captured for a second such infrastructure (inter-modal port community operations) to ensure that the technology developed is generic enough to be used in multiple sectors.