Project Outcomes
The SIMDAT infrastructure is based on IT Innovation's GRIA software, highlighting how our approach to security and management of services delivers the dynamics and accountability necessary for businesses to undertake collaborative design. SIMDAT demonstrated how service-oriented architectures can support a range of collaboration scenarios required by industrial applications, from virtual organisations to value networks, and how by incorporating a standardised message structure vertical integration with sector-specific tooling can be achieved. Our research focused on business level management and on how SLA (Service Level Agreement) management services can be used to support the monitoring, constraining and billing for service usage for a wide variety of applications that was essential to the projects success. We also demonstrated how contextualised registries incorporating security policies can be integrated with enterprise procurement systems. Using these foundation techniques we demonstrated how the infrastructure can support complex scenarios such as 3rd party licensing for on-demand services and collaborative data management (illustrated below).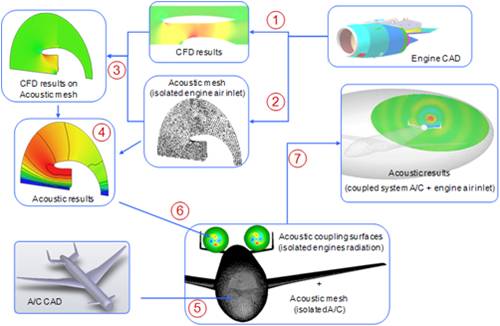 SIMDAT Acoustic Simulation Process in Aircraft Design
After more than 10 years of research and development into Grid technology the baton has been handed to the Internet of Services as industry demands still greater flexibility, diversity and accountability. SIMDAT has shown how service-oriented technologies can be used to exploit the Internet for the collaborative design of complex products.