IT Innovation technology launches the world's first real-time mixed reality ski race
A professional skier battled against two online gamers in the world's first interactive mixed reality downhill ski competition using technology pioneered by the University of Southampton IT Innovation Centre.
Hitting speeds of up to 100 kilometres an hour, the top class skier hurtled down the world cup ski course in Schladming, Austria, in a bid to reach the finish line before his two competitors – virtual reality gamers based in Thessaloniki, in Greece, and Munich, in Germany.
The two day, four race event was broadcast live from the Wearable Technologies Conference, in Munich, at the beginning of February.
Despite the skier on the real slope picking up an early win in the first race, the two online gamers went on to battle back and win the successive races, with the racer in Greece gaining the lead and finishing with the best overall time of 10:01: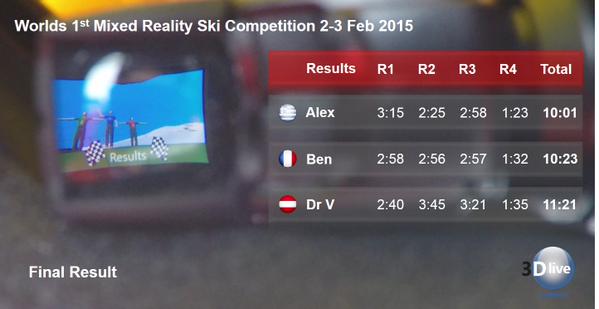 The racers used a 3D tele-immersion platform and wore new virtual reality technology that allowed them to compete against each other by racing down the same ski slope at the same time. The competition was the culmination of research by the European Commission funded 3D LIVE project.
The project's technical lead, Michael Boniface, Technical Director at the University of Southampton IT Innovation Centre, UK said:
The race was a huge success and demonstrated that mixed reality can deliver unique and truly exciting experiences.
The competitors interacted in real-time, sharing their experience in a 3D virtual environment delivered over the Internet to wearable immersive devices. The professional skier wore Smart Ski Goggles with a heads up display that allowed him to see the virtual world alongside the real slope. The indoor competitors were fully immersed in a virtual world using Oculus Rift. By using advanced sensor and gaming technologies to create and manipulate 3D information in real-time, the 3DLive platform delivered truly interactive experiences closely linked to real world activities.
Mixed reality can deliver experiences that have never happened before for people online and people on location. We envisage opportunities for new types of live games that combine digital and real interaction in many different competitive sports but also serious applications. For example, if you are watching a live sports event at home, maybe a championship ski race, you can actually compete against the real pros.
Watch us on BBC News and BBC Click.
Watch the Racing on Youtube: