Arkivum - Assured Archiving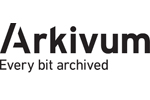 Arkivum is an IT Innovation spin-off company providing cost-effective highly secure and easy to use archiving. It provides the only digital archiving service underwritten by a 100% data integrity guarantee, fully backed by professional indemnity insurance, keeping data safe and secure – forever.
Arkivum's Archive as a Service is based on groundbreaking digital archive management technology developed by IT Innovation in the AVATAR-m project.
To learn more, visit the Arkivum website.