IT Innovation helping build the Future Internet through FIRE
Since 2010, IT Innovation have been a driving force in the Future Internet Research and Experimentation (FIRE) initiative. Participating in 14 EC projects, IT Innovation has helped build advanced platforms and services supporting digital innovation in clouds, interactive media and IoT.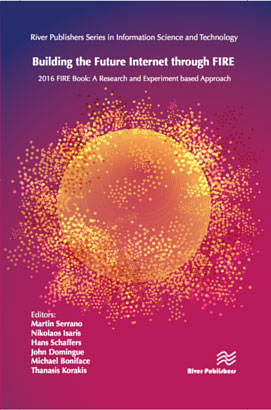 Michael Boniface, Technical Director of IT Innovation, is one of the editors of a new book entitled "Building the Future Internet through FIRE", which pulls together the outcomes from FIRE on R&D, best practices and state-of-the-art experimental facilities.
IT Innovation has delivered ground-breaking results in FIRE. We demonstrated the world's 1st mixed reality ski competition in 3D Live and transformed high performance sports training with interactive media in EXPERIMEDIA. We also helped deliver a multi-site cloud platform as part of the 6 year BonFIRE initiative allowing companies to explore the cross-cutting effects of cloud and networks in new applications and services, and led the creation of Fed4FIRE, the largest federation of testbeds in Europe. Michael Boniface
The work on experimentation platforms and digital innovation networks continues as part of the Next Generation Internet – Experimentation (NGI-EXP) initiative, of which IT Innovation have been an active and influential participant of since its inception. Michael continues
"The Internet is now a vast collection of technologies and systems and has no overall defined design path for its inherent expansion. Neither shall the Next Generation Internet. Trials and experimentation that engage users and technology stakeholders are key for early validation of acceptance, viability and performance of Internet technologies. We use this approach in new projects such as FLAME where we are building a new media service platform that provides a tighter integration with software-defined infrastructure through trials and experimentation. We are deploying the platform in urban scale production city infrastructures and conducting over 20 trials with key players in the creative industries to build the evidence of benefit to user experience and cost reduction."
For more information on the Next Generation Internet, see the HUB4NGI project page.
The FIRE book is available at River Publishers.